While the food service industry  has strict guidelines to protect public health, persistent food safety inspection violations prove that even the most vigilant operations have shortfalls. The Sea~Gun automated soda gun cleaning system from Sea Hawk Safety is proven to reduce dangerous microbial contamination. With the expected exponential growth of COVID-19 (Coronavirus) cases in the USA, now is the time to implement technology to improve public safety.
The Coronavirus crisis, which originated in Wuhan China, will get worse in the United States before it gets better. The respiratory illness was first detected in Wuhan, China. The virus that causes COVID-19 seems to be spreading easily and sustainably in the community ("community spread"), according to the Centers for Disease Control and Prevention (CDC). Coronaviruses are a large family of viruses which may cause illness in animals or humans.  In humans, several coronaviruses are known to cause respiratory infections ranging from the common cold to more severe diseases such as Middle East Respiratory Syndrome (MERS) and Severe Acute Respiratory Syndrome (SARS). The most recently discovered coronavirus causes COVID-19 Coronavirus Disease.
The world agrees that COVID-19 spreads easily even though we don't yet understand all the ways that it can spread. The Food Safety community agrees that cross contamination is a significant threat to public safety. One way cross contamination can occur is from bar cloth to soda gun.
Richard Ritota, Former Food Safety Director of New Jersey, shows how easy that can happen in this video.

Cross contamination is a threat to guest safety. This danger is entirely preventable with the Sea Gun, which cleans everything more thoroughly than humanly possible by manual processes.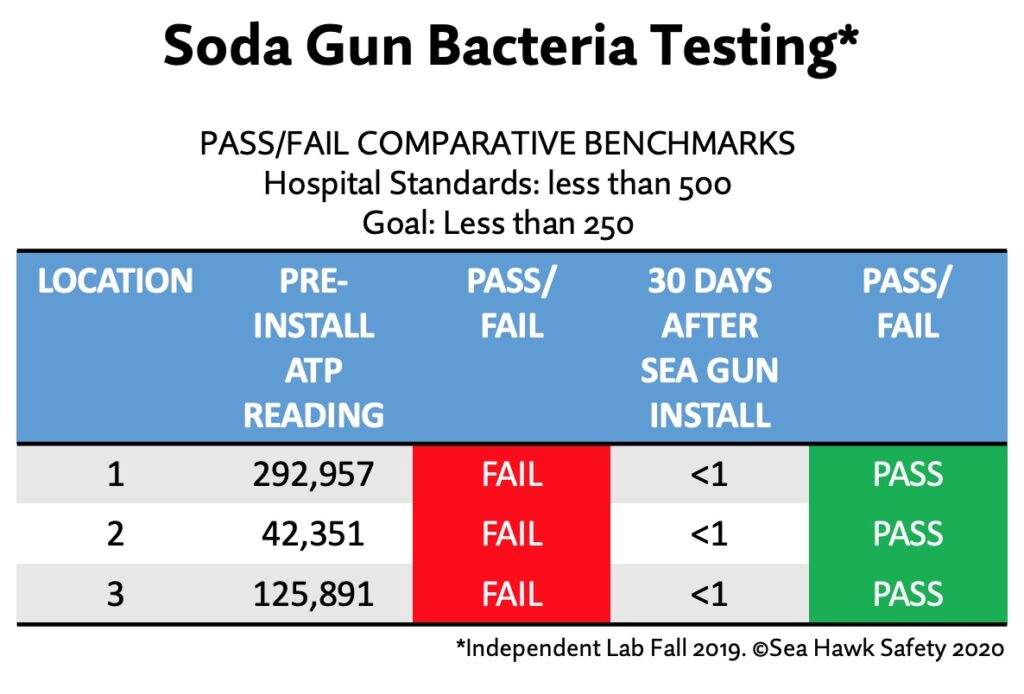 The Sea Gun is innovating the way soda guns are cleaned with a fully programmable and automated system that works with existing soda guns, water supply, and drains. It's easy to install, no plumber or electrician needed so restaurants can quickly improve food safety.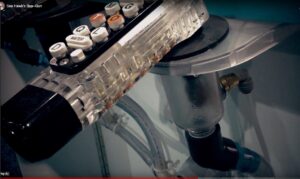 Manual soda cleaning methods don't work as evidenced by continual failed food safety violations. Americans need to do everything possible to help stop spreading the dangerous Coronavirus. Sea Hawk Safety is committed to mitigating public health risks and believes their Sea Gun automated soda gun cleaning innovation is an important element to mitigating the risk of spreading viruses and disease from cross contamination.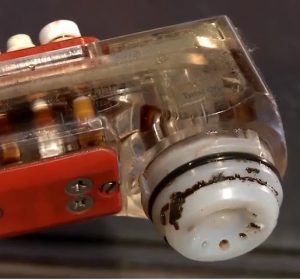 Actual bartender quotes about how to clean soda guns:
"Everywhere I've ever worked, we just put it in a bucket of bleach."
"I'm the only person in my work who cleans the Pepsi gun. It's disgusting. No one else even bothers to clean the nozzles."
"We pull the black-cone nozzle off as well as the holder cup and send that through the dish pit. Take the rest of it (handle with the buttons) and soak it overnight in a pitcher of soda (not tonic) water, the bubbles help break up gunk.
Every couple of weeks or so I soak it in vinegar water.
Your soda vendor Coke/Pepsi should be happy to send out a tech to do a full line cleaning every 6 months or so."
This is an industry paradigm shift from manual to automatic. Automatic cleaning that saves on labor, pesticides and maintenance costs, in addition to mitigating cross contamination risk, including Covid-19, coronavirus, influenza, common cold, E-Coli, norovirus, and any number of other things that make people sick.
Sea Hawk Safety is committed to mitigating food safety risks and boosting profits with automated beverage dispensing innovations. Get the Sea Gun automated soda gun cleaning system today to mitigate risk of deadly cross contamination. Contact us for more information.